By Stephen Morshead – Inspections Specialist
Smoke detectors can experience a decline in effectiveness over a period of time for reasons such as dust particles or age of the device. As time passes, smoke detectors can become less sensitive, rendering them less effective and thus potentially putting lives in danger as they may fail to adequately detect threats. This makes regular smoke detector sensitivity testing critical to the health of your building's Life Safety system.
Companies equipped with smoke detectors are obligated to adhere to the sensitivity testing regulations outlined in NFPA 72. This mandates that all smoke detectors undergo testing to ensure they fall withing the sensitivity range, as indicated by their listing and marking.
A few reasons why sensitivity testing matters:
Safeguarding Employees and Visitors to your Facility
In the event of a fire, a dependable fire detection system becomes crucial for promptly alerting employees and visitors to potential danger.
Adhering to Local Fire Codes for Sensitivity Testing
Facilities must comply with local fire codes to stay in business. They need to maintain compliance with NFPA requirements.
Avoiding Smoke Detector False Alarms
Annual sensitivity testing of your fire alarm system and smoke detectors can reduce the potential of false alarms. When smoke detectors are properly calibrated to the correct sensitivity range, there is no worry about overly sensitive detectors.
Cost Savings on Fire Protection
Annual testing and recalibrating your smoke detectors will extend the life of your detection system, saving money on equipment costs for unnecessary replacement. and you will be preventing potential workplace danger or injury due to poor fire detection.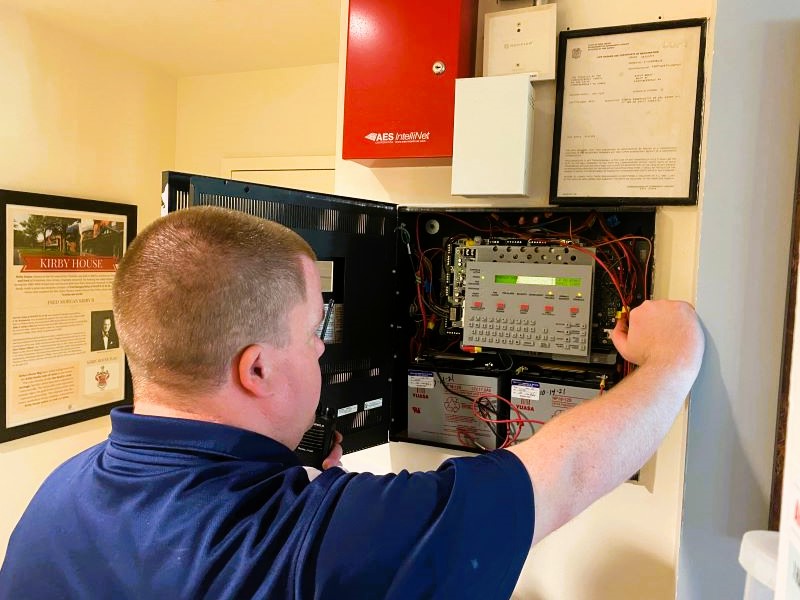 Sensitivity Testing Requirements
Smoke detector sensitivity testing requirements states mandates that smoke detectors should be checked on a regular schedule and maintained or replaced as necessary. Per NFPA 72, smoke detectors must be checked within one year after installation, then every alternate year thereafter.
Having your smoke detector sensitivity testing completed by a qualified professional is crucial to ensure the efficiency and functionality of your Life Safety Systems.
Every smoke detector should be clearly marked with the appropriate sensitivity range. During the sensitivity testing, a fire alarm technician will use a specialized tool that introduces a controlled smoke to the system to measure the sensitivity of each detector head. The tool will determine the sensitivity of the smoke detector in percentage per foot. During this testing, technicians will also ensure that these smoke detectors are properly transmitting information back to the fire alarm panel and setting off the proper response such as audible and visible notification devices and closing magnetically controlled fire doors if applicable.
Conducting regular smoke detector sensitivity testing is a fundamental responsibility when it comes to maintaining the safety of occupants within a facility. By addressing potential sensitivity declines due to factors like dust accumulation and aging, organizations can safeguard lives and ensure compliance with NFPA 72 and the requirements of Authority Having Jurisdictions.
Contact Oliver Fire Protection & Security today to speak to a member of our team to schedule a smoke detection sensitivity inspection!