Article by Dan Robinson – Fire Alarm Sales Expert –
Here at Oliver Fire Protection & Security, we are proud to offer solutions for all of your fire protection and security needs. No matter the size of the facility or residence, we provide solutions to ensure that the correct systems are in place that provide optimum coverage while keeping bottom-line costs to our customers in mind. We recognize that not all systems are the same and proudly offer different sized fire alarm and security systems based on that premise. One such offering is a combination fire alarm and burglary control panel.
This solution is generally an option for residential and smaller commercial properties. Larger facilities usually require more complex systems with larger device counts; therefore, it is less likely a combination fire alarm and burglary control will provide adequate coverage. But small businesses and home owners can benefit from a combined system which provides a single control panel solution for both needs. This solution can help in keeping costs down while still providing the necessary coverage.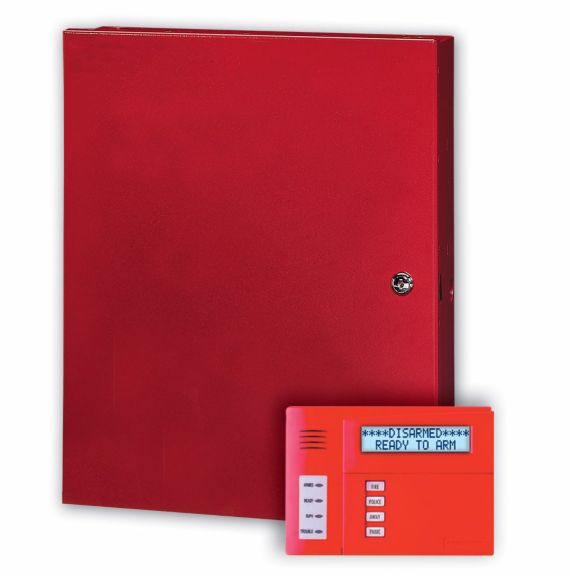 There are different sized combination controls based on the coverage that is required. A 32-point combined control is the smallest option available, while a 250-point combined control is the largest option. These combination systems can offer the same coverage that separate burglar alarm and fire alarm systems accomplish while connecting to a single control panel. Our sales representative will determine which control is required based on customer expectations and the completion of a new system layout.
These controls offer both hardwired and wireless technologies. Wireless technology allows for installation of devices in those areas where it is difficult, or impossible, to run a concealed wire. It also means no holes will need to be cut to install wiring to those areas; no need for patching/painting after our installation is complete. The availability of both technologies in one control ensures that the installation is quicker, less obtrusive, and more affordable for the customer.
After installation is complete and the system is put in service, one control for both fire alarm and burglary detection will simplify account control and save cost by only needing to monitor one control/account for the fire alarm and burglary detection system.
Connect the newly installed system with the new CLSS (Connected Life Safety Services) Pathway monitoring solution and receive real-time event notifications to your cell phone via the downloaded CLSS app or browser. Check out https://buildings.honeywell.com/us/en/products/by-category/fire-life-safety/networking-and-integration/communicators/clss-pathway for more information on the CLSS monitoring solution.