Article by Gerald Amodei Jr. -Sprinkler Service Sales Representative
A vital component of Fire Protection is the response time. Once activated, a fire sprinkler system must be able to quickly respond in order to suppress, or at least control, the fire until fire fighters arrive on the scene. To ensure that a fire sprinkler system operates properly, it is important to inspect the performance of the system through regular testing and maintenance. Having a building's life safety system regularly inspected helps keep minor undiagnosed issues from becoming major costly repairs down the road.
Recommended repairs for sprinkler systems are often diagnosed from the questions that can be found on the first few pages of the sprinkler report provided after your Life Safety inspection. These questions can be referenced from NFPA 25 Standards, which outlines codes that need to be met for sprinkler reports to be uploaded as deficient or non-deficient. Local Authority Having Jurisdictions (AHJ) determines if the report is certifiable.
Many deficiencies can be repaired in little as a few hours; however, others can take a few weeks depending on the severity of issues at hand.
For example, water, air and or fire pump gauges, contingent on the amount that need to be replaced and if already installed on ¼" isolation valves, can be replaced between 15 to 20 minutes per gauge.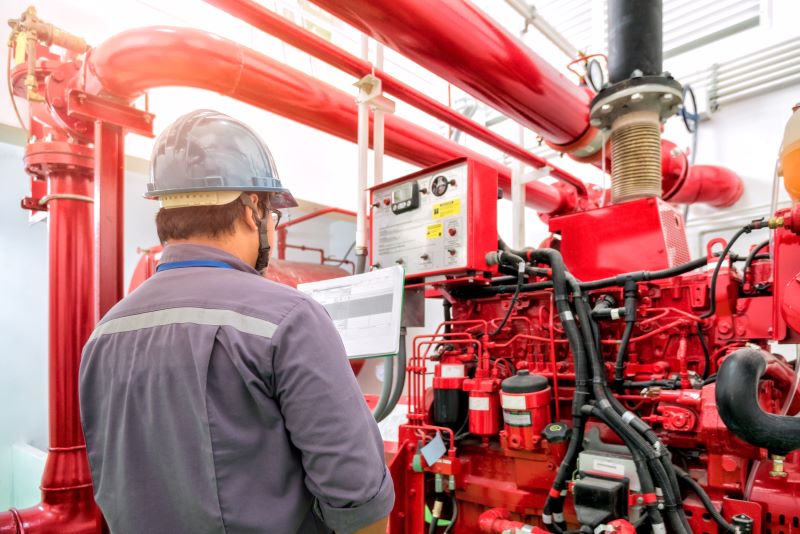 More substantial repairs such as fire pump replacements can take as long as a few weeks. It all comes down to the complexity of a repair. For example, if a pump end is just being replaced, this can be completed in a few days, followed by the startup procedure provided by the manufacturer and a pump test. However, If the entire fire pump assembly needs to be replaced, including replacement of the controller, jockey pump, jockey controller, and additional electrical work is needed, this could take multiple weeks.
Like most things in life, an ounce of prevention is worth a pound of cure. Taking care of minor repairs before they become projects not only ensures the efficacy of your system but will ultimately save you money in the long run. Regular inspections and routine repairs and maintenance ensure that you, your employees, and property are always in good hands.
Contact Oliver Fire Protection & Security for a FREE Consultation and our experts will assess your Fire and Life Safety system to create a customized inspection and maintenance solution to fit your needs.